All About the Almost Heaven Sauna, An American-Made Home Sauna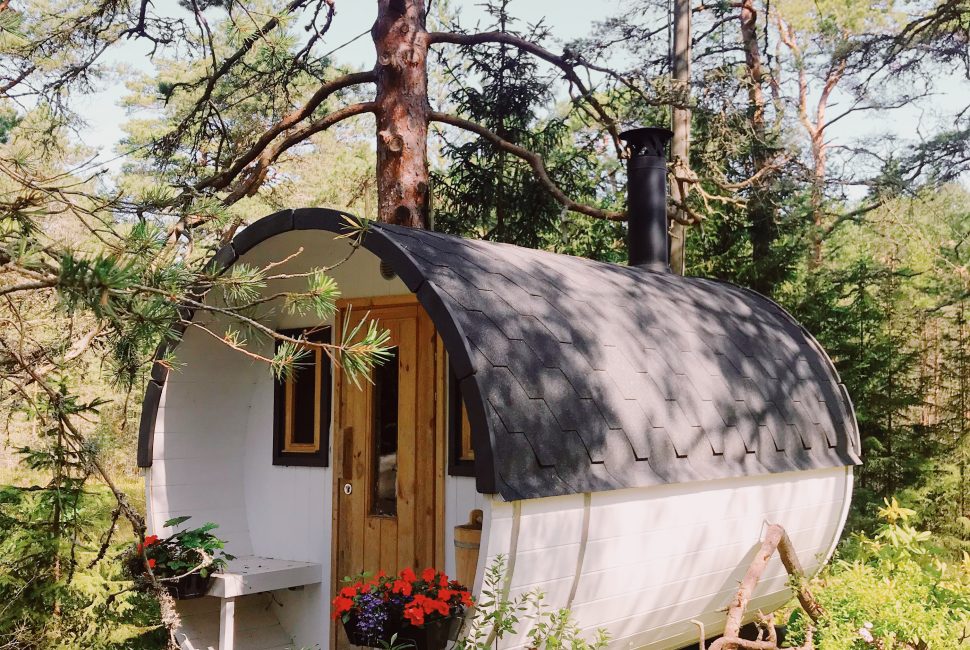 If you have considered purchasing a home sauna recently, then you have probably found yourself researching all the different brands out there to choose from. You have probably already learned about all the pros a sauna can have on your overall health, such as relaxing your muscles, regulating your heart rate and your blood pressure, an increase in energy, and a decrease in anxious thoughts and feelings. These are all very exciting ideas and fantastic selling points, because you want to have your own place to temporarily relieve yourself from the stressful outside world. The sauna can not only serve as a place for your own downtime, but also a place to relax with your family and your closest friends. On the other hand you are already aware that buying your own is a huge commitment, so you certainly don't want to hassle through your decision-making process. We want to ensure that you choose the best sauna for your home environment as well as your budget. One infrared sauna brand that specifically stands out to us is Almost Heaven.
Almost Heaven has been in business for 4 and a half decades. Since 1977, they have been headquartered in Greenbrier Valley, West Virginia, a state known for its breath-taking mountains and scenery. The name of the company is even named after West Virginia's state slogan. Since then, Almost Heaven has opened other manufacturing facilities in Lake Michigan and in Holland, Michigan. Almost Heaven offers a selection of both traditional and infrared saunas, including the classic barrel, the canopy barrel, regular cabins, luxury cabins, indoor, and outdoor. They also offer sauna accessories such as a virtual deluxe heater or a wood-burning heater and chimney kit, LED light bars, all-wood doors, and many, many more!
While all of their products are worth checking out, the ones that particularly stick out to us are the cabin saunas. These really put the spirit of the classic West Virginia mountaineers and the joy of the Finnish sauna to life. This awe-inspiring Appalachia 6-person Cabin Sauna, for instance, is complete with a changing room, exterior porch, and multi-tiered benches. If you have always dreamed of having your very own traditional log cabin, then this is definitely a great choice for you! It can be an especially good choice for a chance to escape the cold winters and just sweat off all of your worries for a little bit. You also have the option to upgrade it with a Virta deluxe heater or a wood-burning heater and chimney kit for maximum sauna benefits comfort level. Best of all, this product is currently having a massive sale! Normally $21,343, you can now get one for just $6,499!*
Some other sauna features from Almost Heaven's extensive selection that we were taken aback by are the deluxe glass door and the barrel sauna floor kit. The deluxe glass door is great for both indoor and outdoor saunas, complete with a clear, frameless tempered glass door and staInless steel hinges. The wooden handle will not heat up with the sauna to ensure you do not burn your hands.  "We bought a 6 person Bridgeport model and use it 4-5 times a week,"  writes satisfied customer Lisa O'Day, calling it the "best sauna on the market." "Both my husband and myself enjoy it together. Perfect for 2 to lay comfortably."

Although Almost Heaven's saunas are designed to withstand any type of weather conditions, the barrel sauna rain jacket is a noteworthy sauna accessory if you live in an area where it frequently rains. It is designated to go on top of the sauna, made with hand-sewn marine grade canvas with your choice of tan, navy, or charcoal gray color and has an UV-restraint. Best of all, it is easy to remove and can be done so at any time. (Please be aware, however, that this product is not designated for saunas with built-in chimneys or with wood-burning, as it will serve as a fire hazard).
If you are ready to start enjoying life more once again in the comfort of your own home with the help of an Almost Heaven sauna, you can go ahead and give them a call at (888) 355-3050 Monday through Friday from 10 am to 5 pm Eastern Standard Time or shoot them an email at sales@almostheaven.net.
* = This price does not include sales tax or cost of shipping